Today I have a stinking cold.
I hate being ill. . . . however it does give me time to focus on some ME crafts.
This is something I haven't done for a while, just made something for ME.
I am a massive fan of
Tara Lynn
, and have been for a while, so you can imagine my excitement when I received my pattern booklet a month ago. I can now create my very own
Goodnight, day
beauty's. And finally as the weather is getting a bit cooler I feel the time has arrived to start one.
I had bought some beautiful denim looking wool on sale and thought it would be lovely for the Meaford Cowl.
Taras patterns are simply written and easy to follow, especially due to her seamless teqniques, meaning that in none of her patterns do you have to sew anything up, but they are ready to wear straight from the needles, The thing I love about them is that all of the patterns really showcase the wool/yarn they are made from. I foresee a small fortune being spent on wool for these projects:)
Next to be made is the Markham loop Collar which I have had my eye on for some time.
She has also released some new knits for the new A/W season, which have got me all inspired!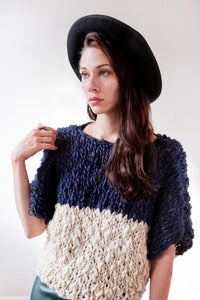 Are you getting inspired for winter crafts? What have you got going project wise?
Happy thursday everyone:)